Blacks are welcome in Thailand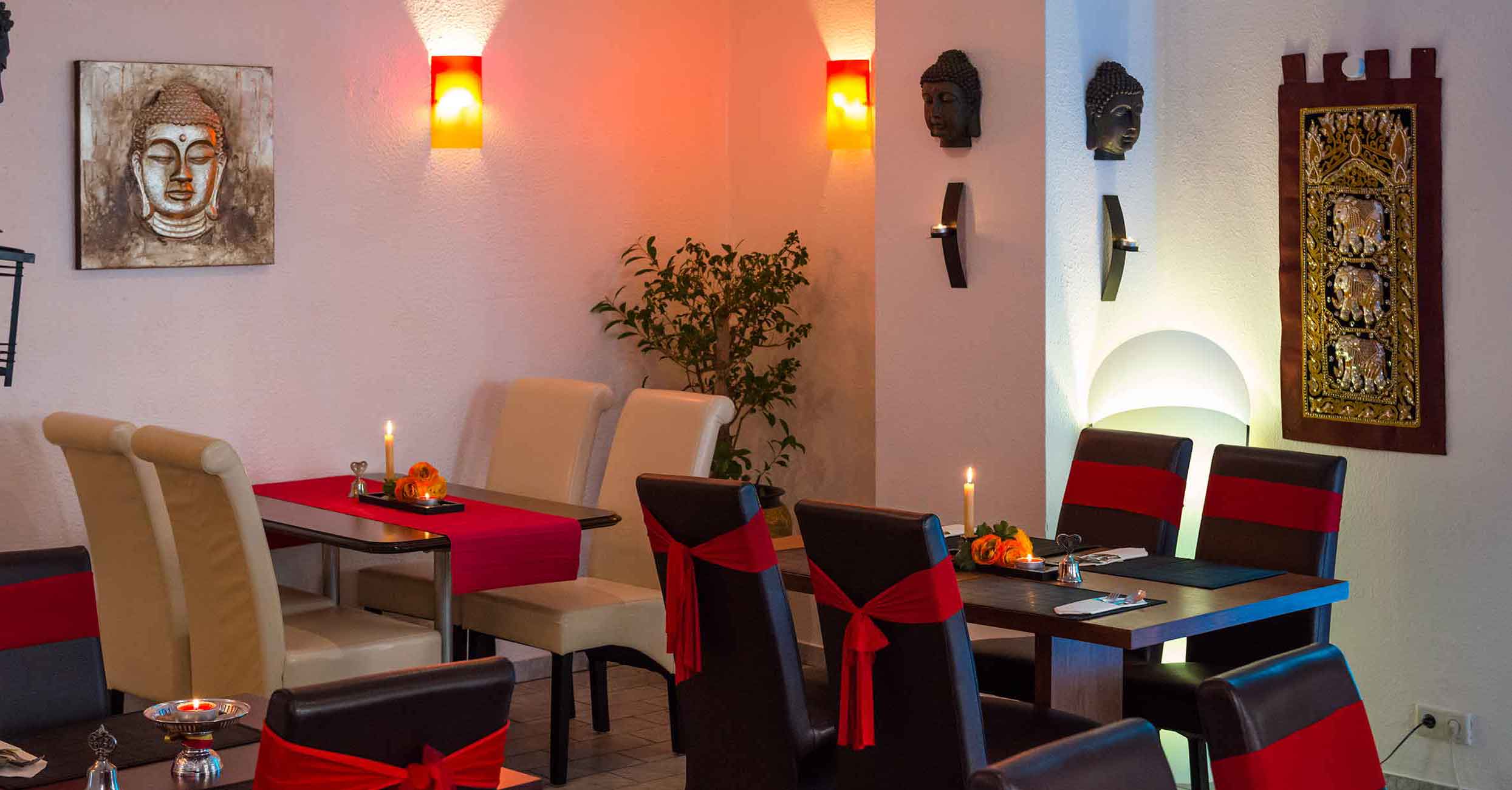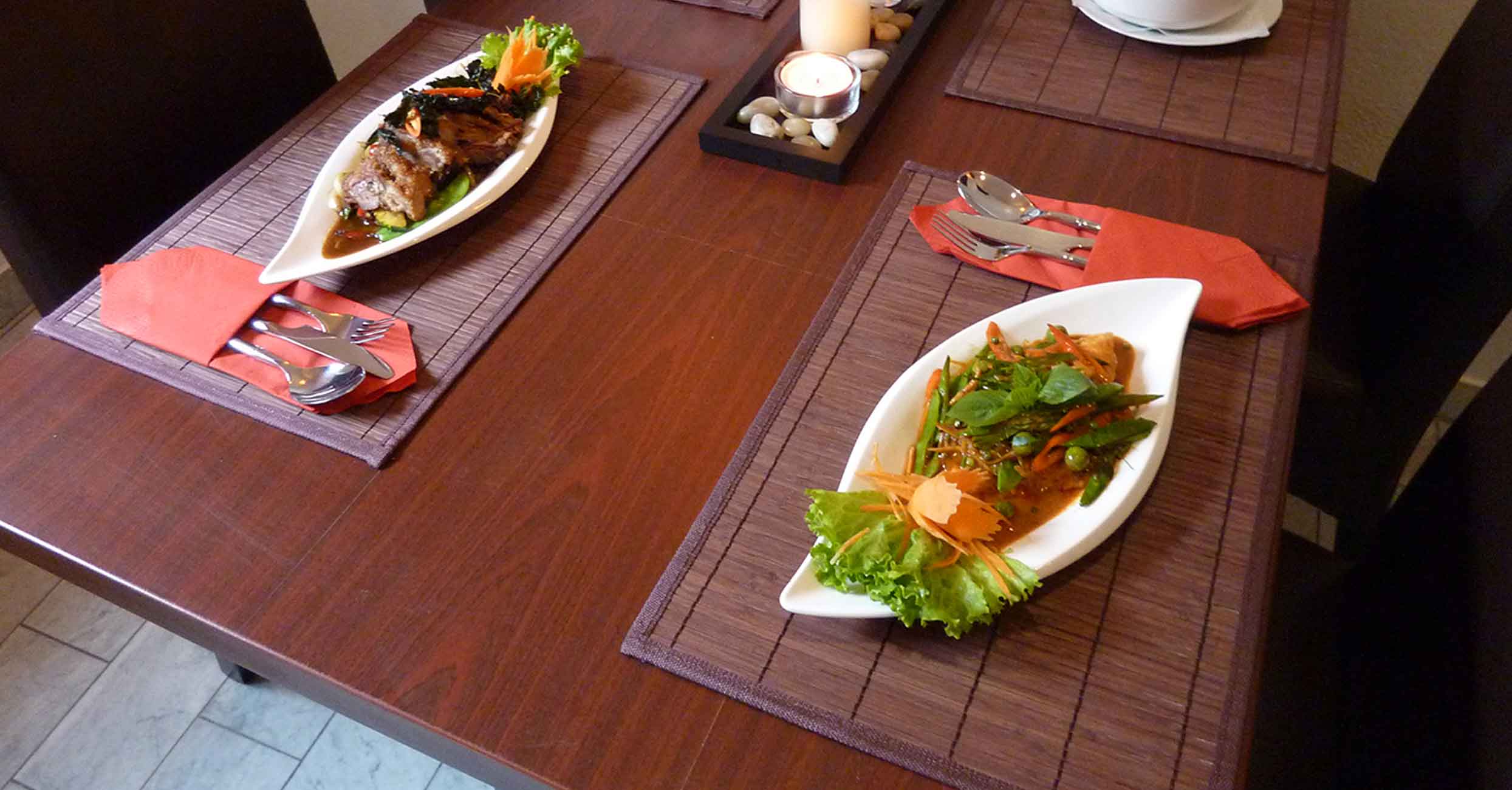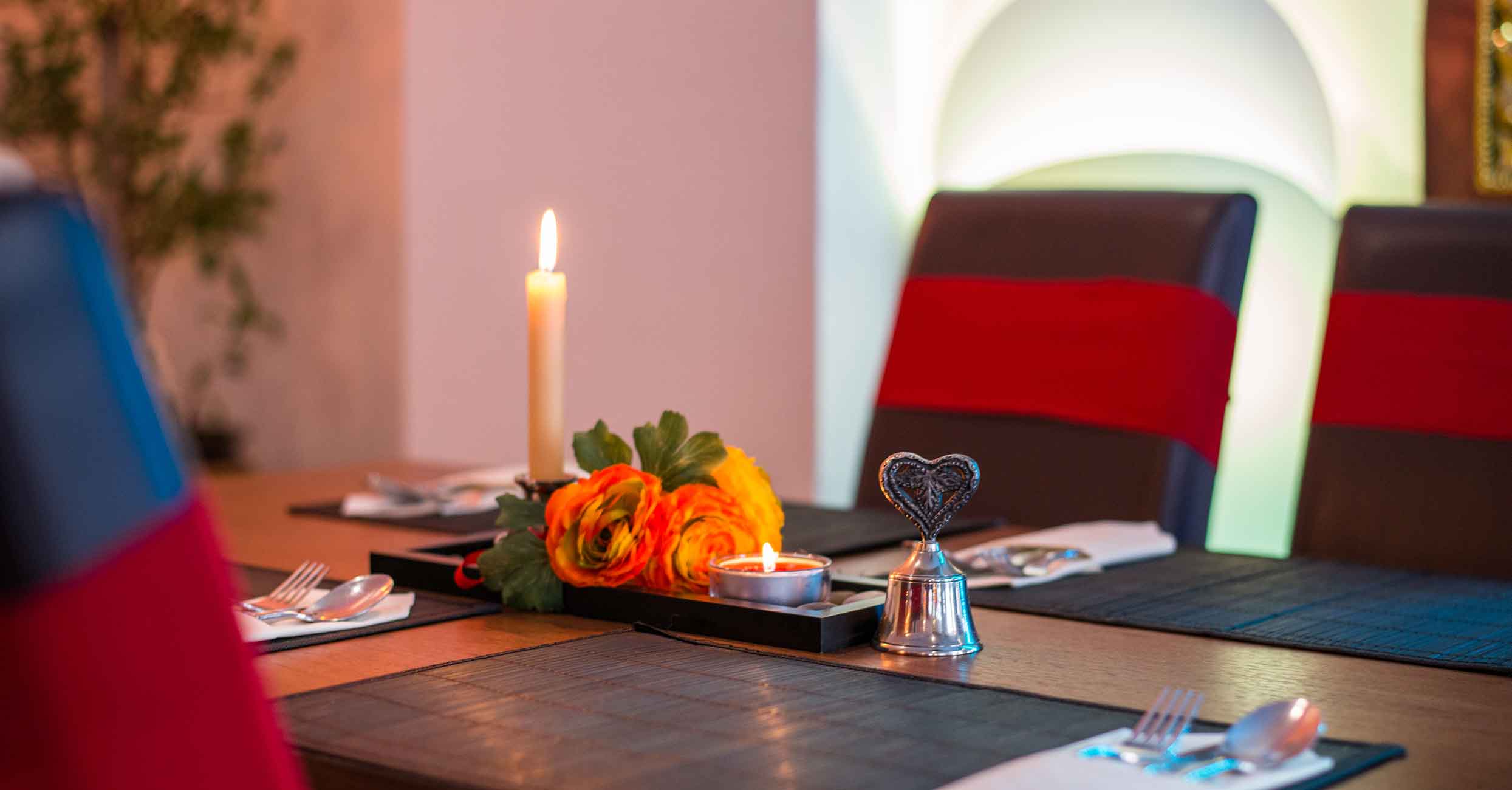 Thai restaurant
Welcome to our website
about us
We welcome you in our small restaurant near the castle in Franconian Nuremberg.
Translated, Krua Thai means: Thai cuisine
Our dishes are lovingly prepared according to your wishes with fresh ingredients without flavor enhancers.
Immerse yourself a bit in Thai culture and let us enchant you and your palate.
Good Appetite!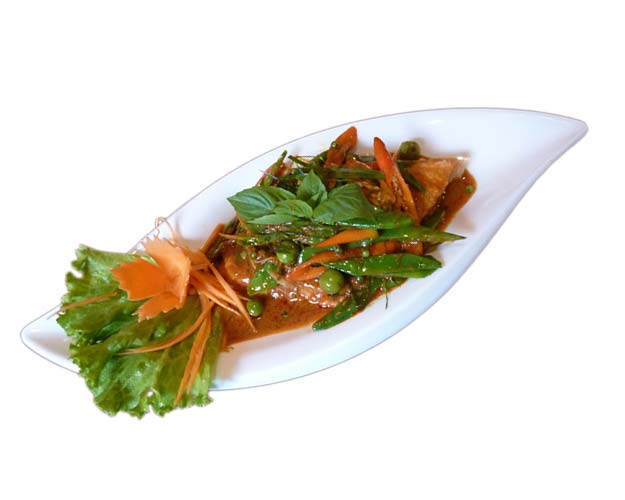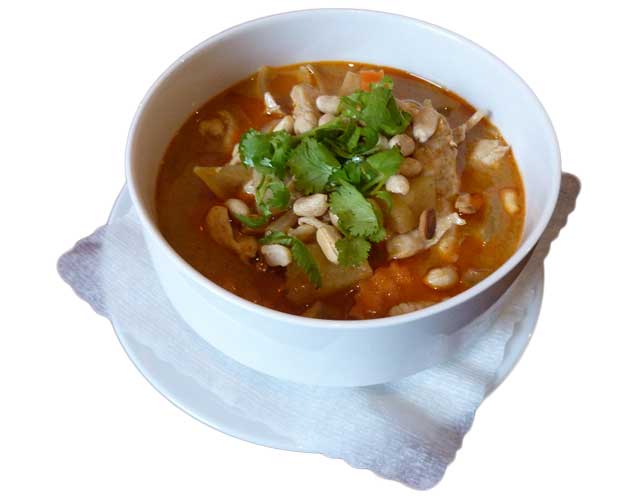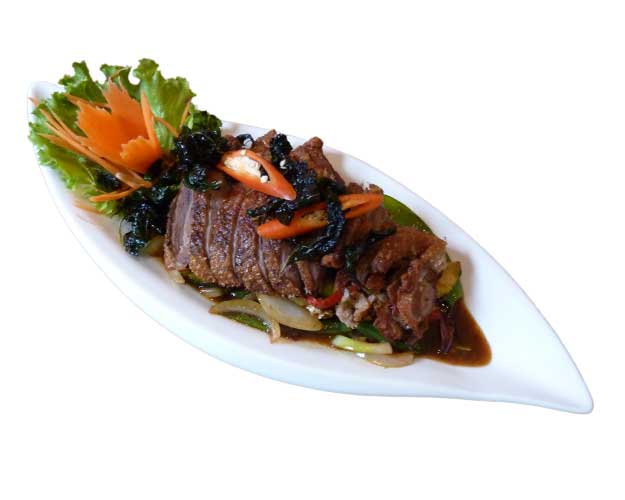 Please call us to reserve a table
or use our online reservation.
11:30 am - 2:30 pm and 5:00 pm - 10:00 pm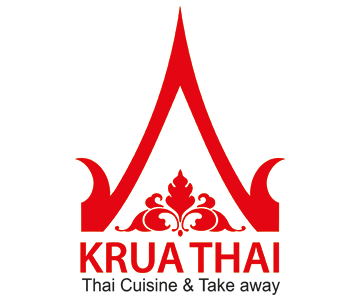 Appetizers
1. Poh Pia Pak A)

Homemade vegetarian spring rolls with mushrooms, glass noodles and vegetables € 4.00

2. Poh Pia A)

Homemade spring roll with chopped chicken breast fillet, Asian mushrooms, glass noodles and fresh vegetables € 4.50

3. Piek Gai Toad

Crispy fried chicken wings seasoned with garlic and pepper with fresh cucumber salad € 5.50

4. Khanom Pang Naa Muu A) C)

Baked toast with minced pork and egg, served with fresh cucumber salad € 5.50
Main courses
100. Masaman Gai E (peanuts)

Chicken breast fillet in curry coconut sauce, seasoned with 21 different spices, potato pieces, carrots, onions, coriander and roasted peanuts € 11.50

101. Gangkua Pedyang

Crispy duck in red curry coconut sauce, various spices, fresh exotic fruits, cherry tomatoes, lime leaves, Thai basil and bamboo € 13.50

102. Chuchi Plaluchs D)

Tender salmon fillet in red curry with green beans, Thai aubergines, peppers, zucchini strips, fine lime leaves and Thai basil, refined with coconut cream € 14.50
Desserts
60. Gluay Buad Chee

Banana in coconut milk € 4.50

61. Gluay Toad Nam Peng A) G)

Baked banana with honey and ice-cream € 4.50

62 Kao Neaw Dam

Black sticky rice with coconut milk € 4.50

63.Saparod Ice Cream G)

fresh pineapple with ice cream € 5.50

64. Kao Neaw ma Muang

Sweet sticky rice with mango and coconut milk (seasonal) € 6.50

65. Roti Ice Cream A) G)

Pancakes with fresh fruit and ice cream € 6.50
Lunch menu / business lunch
Monday to Friday from 11:30 a.m. to 2:30 p.m.
available from Monday - Friday 11:30 am - 02:30 pm
Starter: Homemade spring rolls € 2.00

Appetizer: Homemade Springrolls € 2.00
Chicken breast fillet € 7.50

Vegetarian / Vegetables € 6.50

Squid / Squid D) € 9.50

King Prawns B) € 10.50
M1

Red coconut curry with bamboo, eggplant, zucchini, chili peppers, bell pepper, carrots and Thai basil

Red cocos-curry with bamboo, eggplant, zucchini, chilli, bell pepper, carrots and thai basil

M2

Green coconut curry with bamboo, green beans, Thai aubergines, zucchini, hot peppers and Thai basil

Green cocos-curry with bamboo, beans, eggplant, zucchini, chilli and Thai basil

M3

Red curry coconut sauce, various spices, fresh exotic fruits, cherry tomatoes, lime leaves, Thai basil and bamboo

Red cocos-curry, mixed herbs, fresh exotic fruits, cherrytomatoes, lemonleaves, thai-basil and bamboo

M4

Curry coconut sauce, seasoned with 21 different spices, potato pieces, carrots, onions, coriander and roasted peanuts

Curry coconut sauce, seasoned with 21 different herbs, pieces of potatoes, carrots, onions, cilantro and fried peanuts

M5 C)

Fried egg noodles with fresh vegetables, spring onions, coriander, soy bean sprouts and egg

Fried egg noodles with seasonal vegetables, spring onions, cilantro, soy sprouts and egg

M6 C)

Fried flat rice noodles with carrots, spring onions, broccoli, coriander, Chinese cabbage and egg

Fried rice noodles with carrots, spring onions, broccoli, cilantro, Chinese cabbage and egg

M7

Fried red curry with Thai eggplant, bamboo, green beans, zucchini, hot peppers, green pepper, lime leaves and Thai basil

Fried red curry with eggplant, bamboo, beans, zucchini, chilli, green pepper, lemonleaves and thai-basil

M8 F)

Fried green beans, onions, peppers, zucchini, Thai basil with chili garlic sauce (oyster soy sauce)

Fried beans, onions, chilli, zucchini and thai basil with chilli garlic sauce

M9

Fried zucchini, carrots, onions, mushrooms, bell pepper and cashew nuts with tamarind sauce

Fried zucchini, carrots, onions, mushrooms, bell pepper and cashew nuts with tamarind sauce

M10 D)

Fried seasonal vegetables with mushrooms, bell peppers and mushrooms in oyster soy sauce

Fried seasonal vegetables with mushrooms, bell pepper, muer mushrooms in oyster-soysauce
slightly spicy (light pungent)

spicy

Extra portion of rice € 2.50
Extra portion of peanut sauce € 1.00
Additives
Allergens
A = Grain containing embers
B = crustaceans and their products
C = eggs and products made from them
D = fish and products made from it
E = peanuts and products made from them
F = soy and products made from it
G = milk and products made from it
H = nuts (type of nut)
I = celery and products made from it
L = sulfur dioxide and sulfites
Johannis Street 10
90419 Nuremberg
Tel .: 0911-39574737

Copyright Kruathai Nürnberg 2015
Top